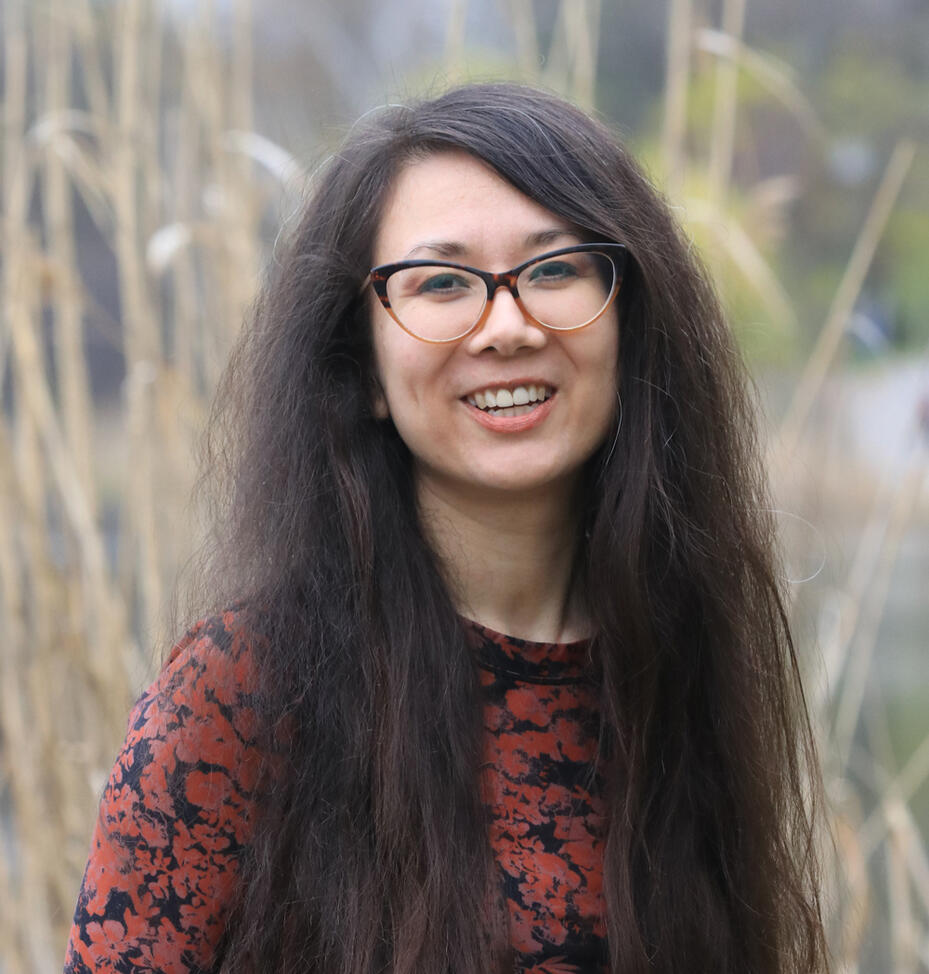 JENNIFER FUKUSHIMA
REGISTERED PSYCHOTHERAPIST (QUALIFYING)

My Practice
I embrace that the symptoms you are experiencing are part of a larger whole. Together, we can work to create meaning and clarity for you, on a mental, emotional, physical and spiritual level.Our sessions are informed by your unique position within time, culture and the fabric of our society. I am 2SLGBTQIA+ aligned, ENM informed, culturally sensitive and work from a harm reduction, anti-capitalist, feminist lens.I have experience supporting those who are struggling with self-esteem, depression, anxiety, people pleasing, life transitions, identity issues, substance use, as well as borderline personality disorder (BPD).As an astrologer and follower of alternative spirituality, I can offer support for those struggling with spiritual concerns and transpersonal experiences through use of symbolism, synchronicity and archetypal inquiry.
About Me
Greetings, I am Jennifer Fukushima (she/they) registered psychotherapist (qualifying) in private practice since 2021. I am a biracial non-binary person of colour and fourth generation Canadian.To my practice, I bring my own lived experience of navigating intergenerational trauma and cultural erasure due to my family's history of living through the Japanese Internment. The various presenting issues I treat are all experiences I have intimate familiarity with through my own life or the lives of close family, friends and loved ones.As a wounded healer, I consider it an honour and a privilege to accompany you on your own healing journey.
Book your free consultation.
Relational & Psychodynamic Therapy
Psychodynamic psychotherapy is a traditional, relational talk based therapy, intended for long-term exploration of the self and personal growth. This type of therapy is unstructured, meaning that the client is welcome to bring in whatever feels important in the moment.A main premise of psychodynamic therapy is the idea that the past informs the present. Thus, we may explore how childhood and past experiences have shaped your present day patterns and relationships.There may be thoughts, feelings and beliefs that are outside of your awareness impacting your day to day life which we may work to gently uncover.Being a relational mode of therapy, the relationship between therapist and client is of central importance. Material that arises between the two of us may be a rich source of information and can be brought in for discussion to support increased self-awareness of interpersonal patterns.
Related Education
5 Year Diploma in Psychodynamic Psychotherapy from Ontario Psychotherapy and Counseling Program
Book your free consultation.
Somatic Therapy
The term somatic come from the Greek, soma, meaning body. There is growing evidence that talk therapy alone is not enough to heal trauma and that we need to bring in the body, in order to rewire neural pathways.In our work together, I may incorporate somatic techniques in order to support you in identifying and tolerating uncomfortable emotions. Through these interventions, it is possible to increase resiliency, changing the way you show up and respond in emotionally fraught situations.
Related Education
Certificate in Somatic Embodiment & Regulation Strategies with Linda Thai
Book your free consultation.
2SLGBTQIA+
2SLGBTQIA+ individuals face unique struggles and experiences whether it be identity exploration, coming out to yourself, to loved ones or within the wider community, relationships, non-monogamy, parenting, fertility, sex, sexual health, HIV/AIDS, transitioning, religion and spirituality, living with the impacts of current and historical marginalization or finding community. Intersectionality adds layers of complexity to the experience of oppression folx may face. I am here to affirm you on your journey and support you in your growth through compassion, understanding and advocacy.
Related Education
Certificate, 2SLGBTQ Foundations Course from Rainbow Health Ontario.

Certificate, 2SLGBTQ Emotional and Mental Health from Rainbow Health Ontario.
Book your free consultation.
Astrological Psychotherapy
Astrology has the potential to deepen an individual's sense of self and provide a broader spectrum for self-expression. By viewing oneself as part of a larger whole, it is possible to achieve an increased sense of meaning and purpose.I take a spiritually integrated approach to astrological psychotherapy. In these sessions, we can bring in astrological language and symbolism alongside other established modalities and evidence-based interventions. I will always work with your level of understanding of astrology and the ways in which it is relevant to your life.For clients who are not astro-literate, I can use the chart to inform the way I work with you, but may not bring the language directly into our sessions.I do not offer predictive work or give "readings" in psychotherapy sessions but can assist you in processing what you are going through from an astrological lens.
Related Education & Training
Completed Year 1 Psychological Astrology with MISPA

Completed Levels 1-4 in Astrological Studies with the NCGR and certified up to Level 2

Intermediate & Advanced Astrology with Julie Simmons

Astrological Psychotherapy Mentorship and Consultation with Jason Holley

Spiritually Integrated Psychotherapy Level 1 & 2 with ACPE
Book your free consultation.
Borderline Personality Disorder
The term BPD (borderline personality disorder) has become highly stigmatized. Many professionals including myself are working to change this stigma. Some suggest it may be better termed, emotional dysregulation disorder.People with BPD also come with many strengths, like a strong sense of compassion towards others, a powerful imagination as well as creative talents and abilities.People with BPD are often highly sensitive individuals who experienced emotional invalidation, abuse or neglect growing up. These individuals may not have had adults they trusted who could help them to understand and process their feelings, were told their feelings were wrong and as a result may have grown up feeling that there was something wrong with them. Others may have had adults in their life who were scary, unpredictable or abusive.Symptoms of BPD include emotional dysregulation, rejection sensitivity, difficulty with interpersonal relationships, impulsive spending, substance use, sexual activity or self-harm. It is often accompanied by a feeling of being different, a struggle to define who you are and even feelings of self-hatred. For these folks it can be difficult to be in relationship but also difficult to be alone. Suicide ideation and attempts are also common.But BPD is also highly treatable and often the symptoms become less severe with age and increased life experience.I am able to treat BPD using DBT as described below, though I am also trained to treat BPD relationally, which can feel more organic.
Dialectical Behaviour Therapy
Dialectical Behaviour Therapy or DBT is an evidence based treatment for borderline personality disorder which is another focus of my practice. Dialectical thinking suggests that we can accept the past while also creating future change.DBT is a structured therapy with weekly worksheets and homework assignments to support you in forming new habits and skills. The program is divided into four units: mindfulness, distress tolerance, emotion regulation and interpersonal effectiveness.
Book your free consultation.
Feminist Therapy
Feminist therapy acknowledges the unique experience of oppression that women face due to societal, cultural and political influences. I approach Feminist Therapy from an intersectional lens, acknowledging the ways in which racialized women, trans women and women living with disabilities face additional barriers to health.My goal is to create a safe space, where we can bring these experiences of marginalization to light, ultimately supporting you to lead a more empowered life.
Book your free consultation.
Sliding Scale Fee Structure
I've chosen to adopt the Green Bottle Sliding Scale Fee model originated by Alexis J. Cunningfolk in an effort to make my services more accessible to people who would not otherwise be able to afford therapy. Funds from those who are able to pay at the top end of the scale will allow me to offer more slots at the bottom end.If you do have access to financial resources through family members, partners or friends, please consider using those first before using the sliding scale resources which may limit opportunities for others.I do not require income verification, I simply ask that clients engage in some honest self-reflection before selecting what they are able to pay.
Top of the Scale
I am comfortably able to meet all of my basic* needs

I may have some debt but it does not prohibit attainment of basic needs

I own my home or property OR I rent a higher-end property

I own or lease a car

I am employed or do not need to work to meet my needs

I have regular access to health care

I have access to financial savings

I have an expendable income**

I can always buy higher end items

I can afford an annual vacation or take time off
Middle of the Scale
I may stress about meeting my basic needs* but still regularly achieve them

I may have some debt but it does not prohibit attainment of basic needs

I own or lease a car

I am employed

I have access to health care

I might have access to financial savings

I have some expendable income**

I am able to buy some higher end items but need to save money on others

I can take a vacation annually or every few years without financial burden
Bottom of the Scale
I frequently stress about meeting basic needs* & don't always achieve them

I have debt and it sometimes prohibits me from meeting my basic needs

I rent lower-end properties or have unstable housing

I do not have a car and/or have limited access to a car but I am not always able to afford gas

I am unemployed or underemployed

I qualify for government assistance including food stamps & health care

I have no access to savings

I have no or very limited expendable income**

I regularly look for deals when purchasing items as I'm unable to afford to shop at regular prices.

I cannot afford a vacation or have the ability to take time off without financial burden
* Basic Needs include food, housing, health care, and transportation.
** Expendable Income might mean you are able to buy coffee or tea at a shop, go to the movies or a concert, buy new clothes, books, and similar items each month, etc.
Book your free consultation.
Contact Me
Please feel free to reach out if you have any questions or visit my website to book your free consultation.